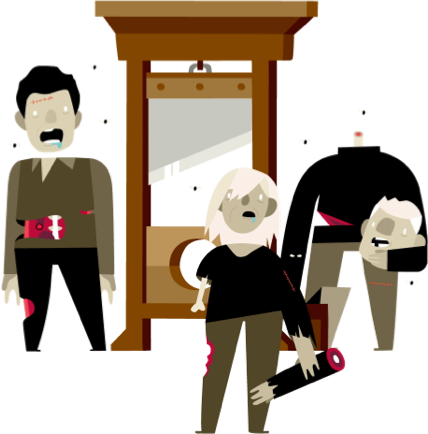 Zombie Mode Explained
Zombie Mode is a guillotine league but with a key difference. Instead of getting chopped, teams join a zombie horde, collaborating to take down the remaining human teams.
Your goal is to be human by the end of Week 17, either by avoiding the zombie horde all year or by finding a cure, if you do become a zombie.
When humans are taken down by the zombie horde, their roster goes to the waiver wire, and half of their remaining FAAB gets distributed evenly among the zombies. Later in the year, zombies can find a cure to restore their humanity.
You can join a public Zombie Mode contest or play with friends in a private league with Zombie Mode.
Three Phases of the Zombie Mode

Week 1: We create the initial zombie horde with the four lowest-scoring teams after Week 1. Those teams send their rosters to free agency and lose half their FAAB. Fortunately, your humanity can be restored later in the season!

---

Human Majority: In any week that starts with more humans than zombies, the top-scoring zombie team can convert the bottom-scoring human team, turning that team into a zombie. It's possible for the zombie horde to convert multiple humans. See "Conversions" below for details.

---

Zombie Majority: In any week that starts with the same or more zombies than humans, the zombies can continue to convert humans, but additionally, the highest scoring zombie team finds a cure and has its humanity restored. There are always at least four humans left alive. Multiple high-scoring zombies will find cures if there are less than four humans left after zombies have converted them.

Conversions

Every week, the highest-scoring zombies can potentially convert the lowest-scoring humans into zombies. The highest-scoring zombie team is compared against the lowest-scoring human. If the zombie outscores the human, that team is converted. When that happens, the human team drops its roster to the waiver wire and half of its current FAAB is distributed evenly to the zombies.

More than one team can be converted. After the first check, we also check the 2nd-highest scoring zombie team against the 2nd-lowest scoring human team. This process continues until with the 3rd, 4th, etc... until the zombies haven't outscored a human.

Above: The two highest-scoring zombies convert the two lowest-scoring humans.

Cooperation

Humans and zombies are encouraged to scheme with their own type to achieve their objectives. Humans and zombies have access to their own message boards, accessible only by their own type.

Prizing
At the end of Week 17, all surviving humans split the pot evenly. There will never be less than four human survivors.
League Size

18 teams in public leagues. Private leagues can play with less, but 18 are recommended.

Draft Types

- Fast Draft: Snake-style, 14 rounds, 60 seconds per pick

- Slow Draft: Snake-style, 14 rounds, 1, 2 or 6 hours per pick

Rosters

- 14 total players: 8 starters, 6 bench

- You start: 1 QB, 2 RB, 2 WR, 1 TE and 2 FLEX (RB/WR/TE)

Scoring

- Passing: 1 point every 25 yards, 4 point TDs, 2 point passing conversions

- Rushing: 1 point every 10 yards, 6 point TDs, 2 point rushing conversions

- Receiving: 1 point per reception, 1 point every 10 yards, 6 point TDs, 2 point receiving conversions

- Kick/Punt Return: 6 point TDs

*Fractional scoring for yardage

Free Agency

- Players are acquired using your Free Agent Acquisition Budget (FAAB) via blind bidding

- There are two blind bidding periods every week (Thursday & Friday)

- After both weekly waiver periods, there is a first-come-first-serve (FCFS) acquisition period


- Starting FAAB budget is $1000, $0 bids are not allowed but you can add via FCFS with $0 balance

- FAAB balances for zombies can exceed $1000.

- Free agency continues through the entire 17 week season.

Trades
Trading is not allowed (in public leagues).
Injured Reserve
There are no designated roster spots for injured or suspended players